I might have added
a little
a lot to my stash this month. My usage numbers have been good this year and I was down by nearly 10 yards at the end of October, so no guilt for refreshing my "Fabric Resources."
First, I'm thrilled - I won a blogger bundle from Bernie at
Needle and Foot
, this beautiful selection curated by Sandra at
MMM quilts
. Thank you, Bernie and Sandra! More on how I'm using these rich prints in another post, but suffice it to say I love them, even though purple is not one of my usual colors.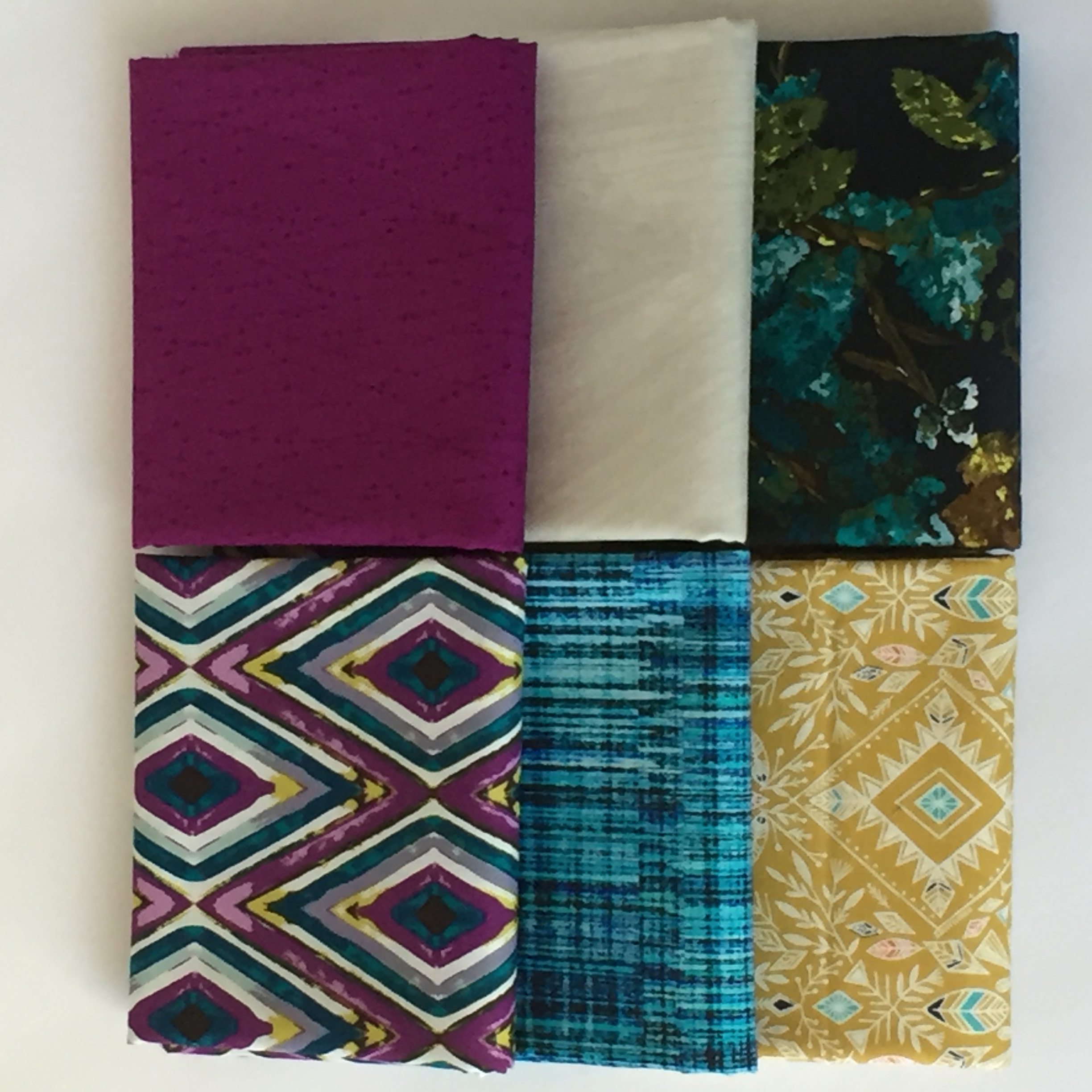 Connecting Threads
(no affiliation)
had a remnant sale earlier this month, $1 per yard. I must have gotten lucky there, too, because there was still stock left when I looked, but it sold out by the next day. I scored some great basics. The two whites are actually white-on-white; I thought I was ordering low volume grey-on-white, a paisley and a medallion print. I like the white-on-whites even better!
Jackman's (LQS) had a sale including their $1.09 fat quarters earlier this month. You know I can't resist their FQ sale so I had to check it out. They had lots of great basics, including brights and low volumes. I may have stocked up with doubles of some.
In addition to brights, I must have been thinking about masculine colors, too. I didn't intentionally pull these blues, neutrals, and chocolates for one quilt, but they sure do look good together.
While at the store I checked out the sale yardage, looking for backings for baby quilts. I found this cute coral pup print and a couple of all-purpose greys. Most of my stash is cuts of one yard or less, or FQs, so I either have to piece backings or purchase yardage for them. For baby quilts, these 1-1/2 yard cuts will work great.
So, total stash enhancement, 21-1/4 yards. Total outlay, $78.57. Net cost per yard, $3.70. Not bad. This is how I can continue to make donation quilts. And now I have lots of inspiring new prints to play with. Should keep me busy for awhile!
If you've left a comment for me lately, I haven't been getting them by email so I've been unable to respond. If you left a comment and I didn't respond, I'm sorry.
Louise answered my call for help to fix the problem, so I've tried what she suggested and I'm hoping the problem will be fixed and I'll be able to get comments. Thanks, Louise!
In camera news, my son brought my old camera to me over the weekend, so the above photos should be the last of the phone photos, I hope. Henceforth I can't blame the quality of the photos on anything other than operator error, as I'm not a photographer.
Linking up with
Small Quilts and Doll Quilts
Em's Scrapbag
Love Laugh Quilt