It feels good to be back to blogging. I took a couple weeks off, mostly because DH and I were on vacation in the Seattle area for nine days. We had a great time, and had really good sunny weather except for one day.
Now that I'm back and I've unpacked and done laundry, I've finally been able to get back into the sewing room. I started the quilting on the Forest Fellows baby quilt before I left, and got it finished and ready for binding since I've been home.
Forest Fellows baby quilt
Due to the piping, the center poufed up a bit, so I quilted the center more densely than the border, and it flattened out nicely. With my limited FMQ skills, I quilted stippling in the ecru, small meander in the turq, matchstick straight lines in the orange, and large meander in the border. The backing is a single piece of that large Forest Fellows print. Trimmed and ready for binding, this quilt measures 41-3/4" square. How's that for fitting it into one WOF piece of backing?!
I'll bind it in the same brown as the piping. Binding will have to wait a bit, though. I want to put the baby's name on the label and insert the label into the binding. I'll have an opportunity to see the parents and confirm the baby's name over Labor Day weekend. No surprise, they know I'll make a quilt for this baby since I made quilts for their other two.
Since getting this quilt finished was my OMG for August, I'm linking up with
Red Letter Quilts
. It's as finished as it can be until I verify the baby's name.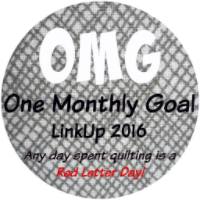 In other quilty news, I've been invited to camp again this weekend (private retreat). Since I'm totally unprepared, I'm packing my big deadline project and throwing in some UFOs as well. I'm also taking my laptop so I can write the instructions for the big deadline project and have them ready to post when the time comes. Hint: I'm collaborating on something with
Alycia
.
And another finish: Last month I forgot to post about the monthly outfit I made for Gracie, so here are her wardrobe additions for July and August:
July: Gracie's Reversible Sundress
August: Gracie's Maxi Dress
So as well as some finishes, I've got a busy day and a fun weekend ahead of me. Whoo-hoo! I'm linking up with Sarah over at
Concessions of a Fabric Addict
. Check out what everyone else is celebrating over there.